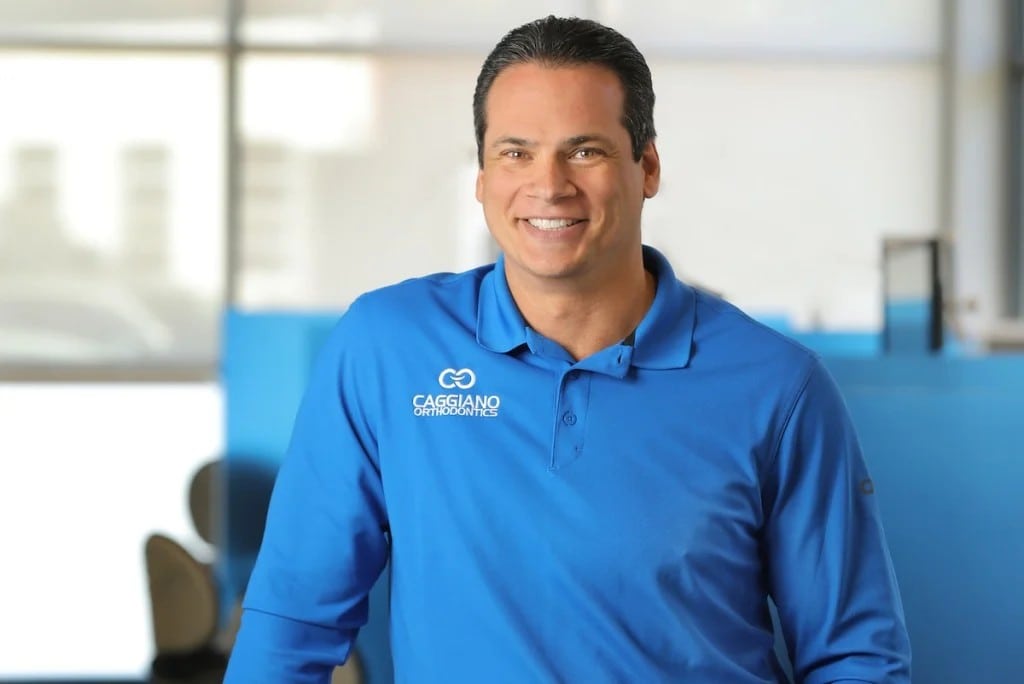 "I feel so fortunate to be an orthodontist in and around Parsippany, Morris Plains, Boonton, Mountain Lakes, Whippany, & Montville, New Jersey (NJ). I absolutely love what I do! Orthodontics is the perfect combination of my biomedical engineering training, my artistic talent, and my medical expertise. It is truly rewarding to watch a patient who enters my office initially insecure, shy, and introverted (partly due to having crooked teeth) as they grow to become confident and outgoing. It is an amazing transformation that will never cease to fascinate me."
Dr. David Caggiano is proud to practice orthodontics in the Parsippany area of NJ and to serve the community close to where he grew up. Raised in Fairfield, he graduated from West Essex Regional High School. The son of an engineer, he attended the New Jersey Institute of Technology (NJIT), where he graduated magna cum laude with a Bachelor of Science degree in engineering, a minor in applied mathematics, and a Master of Science degree in biomedical engineering.
Numerous Accolades
During his time at the New Jersey Institute of Technology (NJIT), he was the recipient of numerous academic awards and scholarships. Among them were: a member of the National Engineering Society, selected to Who's Who Among Students in American Universities and Colleges, selected to the National Dean's List, and recipient of the the NJIT President's Award and Dean's Award. To build upon this academic success, Dr. Caggiano decided that a career in dentistry offered the best opportunity to combine his skills in art with his engineering background.
Dr. Caggiano entered dental school in 1997 and trained at the University of Medicine and Dentistry of New Jersey (UMDNJ), where he received his Doctorate of Medical Dentistry degree, again with numerous academic awards along with clinical achievement awards and service awards. Academically, he graduated at the top of his class and was inducted into the prestigious Omicron Kappa Upsilon Honor Society. While at UMDNJ, he served as Class President and Student Government President, and he held many organized dentistry positions at the local, state, and national levels (earning him the National Delegate of the Year Award from the American Student Dental Association). Upon completion of his dental studies, he trained for an additional year as a dental resident at Newark Beth Israel Hospital, where he obtained advanced training in all aspects of dentistry, including dental surgery, anesthesia, and management of medically compromised patients.
A Passion For Orthodontics, Learning & Transforming Smiles
Dr. Caggiano practiced as a general dentist for seven years. Although he enjoyed all aspects of general dentistry, his particular interest in orthodontics led him back to the UMDNJ to complete an additional three-year residency, specializing in orthodontics. Combining his background in biomedical engineering with his extensive training and experience in general dentistry, Dr. Caggiano can create innovative and exciting approaches to solve even the toughest orthodontic situations. "Engineering each smile is a unique process with many options," he says. "It is important to achieve the best result in the most efficient and comfortable manner for the patient."
Dr. Caggiano's patients can rest assured that they are receiving the best in orthodontic health care. His goal is to provide the most up-to-date technology and techniques while using the best materials possible. He is devoted to lifelong learning and furthers his education through reading, attending conferences, continuing education courses, and participating in study clubs, including the Western Essex Dental Association Study Club and the Bear Brook Study Club. In addition, he is an active member of many prestigious professional organizations, including the American Dental Association, the New Jersey Dental Association, the Morris County Dental Society, the American Association of Orthodontics, the Mid-Atlantic Association of Orthodontics, the New Jersey Association of Orthodontics, and the Academy of General Dentistry. Furthermore, he is an attending orthodontist on the dental staff of Morristown Memorial Hospital, and he also teaches orthodontics to the dental residents there.
Dr. Caggiano has an intense passion for his profession and looks forward to coming to the office each day and seeing the joy he brings to his patients as their smiles improve and their self-esteem grows. The office environment is designed to be warm and friendly. In addition, his personality is as comforting as his clinical skills are strong. He is an excellent listener and communicator and is compassionate. "As a father, I want the best care for my child, and I know that the parents of my patients feel the same."
When he's not creating confident smiles, Dr. Caggiano likes to travel, play ice hockey, golf, exercise, read, and spend quality time with his wife, Salma (whom he met while attending UMDNJ), his daughter, Charlotte, and his son, Liam.