About Invisalign
What Is Invisalign?
The Invisalign system is the virtually invisible way to straighten your teeth and achieve the smile you've always wanted. Using advanced 3-D computer imaging technology, Invisalign models your complete treatment plan, from the initial position of your teeth to the final desired position. Then a series of clear aligners are custom-made for your teeth — and your teeth only — to move them little by little. Each aligner is worn for two weeks before being replaced by the next in the series until the final position of your teeth is achieved. Your Invisalign treatment time will be determined by Dr. Caggiano based on your specific needs.
What Are The Primary Benefits Of Invisalign?
Invisalign aligners are clear; no one may even notice that you're wearing braces, making Invisalign a seamless fit with your lifestyle and day-to-day interactions with others. Invisalign is removable. Unlike braces, you have the flexibility to eat and drink what you want during treatment simply by removing the aligners when you eat. You can also remove the aligners to brush and floss as you normally would for fresh breath and good oral hygiene. Unlike traditional metal braces, Invisalign does not use metal brackets or wires that could cause irritation to your mouth. In addition, you'll spend less time in the doctor's chair and having to schedule appointments and more time out doing the things you love. Lastly, Invisalign allows you to view your virtual results and treatment plan before you start your treatment, so you can preview how your straight teeth will look once your treatment is complete.
Will Invisalign Fit My Lifestyle?
Time for a snack? No problem. Take out your aligners to eat or drink whenever you want.
Since Invisalign is virtually invisible, chances are no one will even notice anything is different

—

that is, until your new smile is revealed, of course!
You can remove your Invisalign aligners in order to brush and floss regularly and keep your teeth and gums healthy.
You can occasionally remove your Invisalign aligners and enjoy a special night out.
There's no need to change a thing. Continue your day-to-day activities while still straightening your teeth.
Be yourself with Invisalign. Since it's clear, you don't have to hide your smile while going through treatment.
With Invisalign, it's easy to make your smile picture-perfect for that special occasion.
Invisalign appointments work with your schedule. Most visits are in and out, with a quick progress check once every six weeks.
It Matters Who Designs, Administers & Finishes Your Invisalign Treatment
As a Diamond Invisalign Provider, Dr. Caggiano brings an exceptional level of skill and experience to every case. As a Diamond Invisalign Provider, he's successfully treated hundreds of cases with Invisalign. Our Diamond status is a guarantee that you'll receive treatment from a team that understands the subtleties of the Invisalign system, can anticipate challenges, and can deliver superior results.
Propel VPro Accelerated Invisalign Treatment
Propel VPro is a revolutionary device that helps accelerate the movement of teeth during orthodontic treatment for our adult patients. This cutting-edge technology works by using gentle vibrations to stimulate bone remodeling and help your teeth move into their proper positions faster. But, how does this accelerated treatment benefit you?
Firstly, it means you can achieve your desired results in a shorter amount of time compared to traditional Invisalign treatment. This is because Propel VPro helps to speed up the bone remodeling process, allowing your teeth to move more efficiently. This can reduce your overall treatment time by up to 50% — meaning you'll have a straighter smile in less time!
Moreover, accelerated Invisalign treatment with Propel VPro is also designed to be more comfortable for patients. The device works quickly and gently, making it a virtually pain-free experience. Plus, the vibrations from Propel VPro can even help to reduce any discomfort that may be caused by aligners.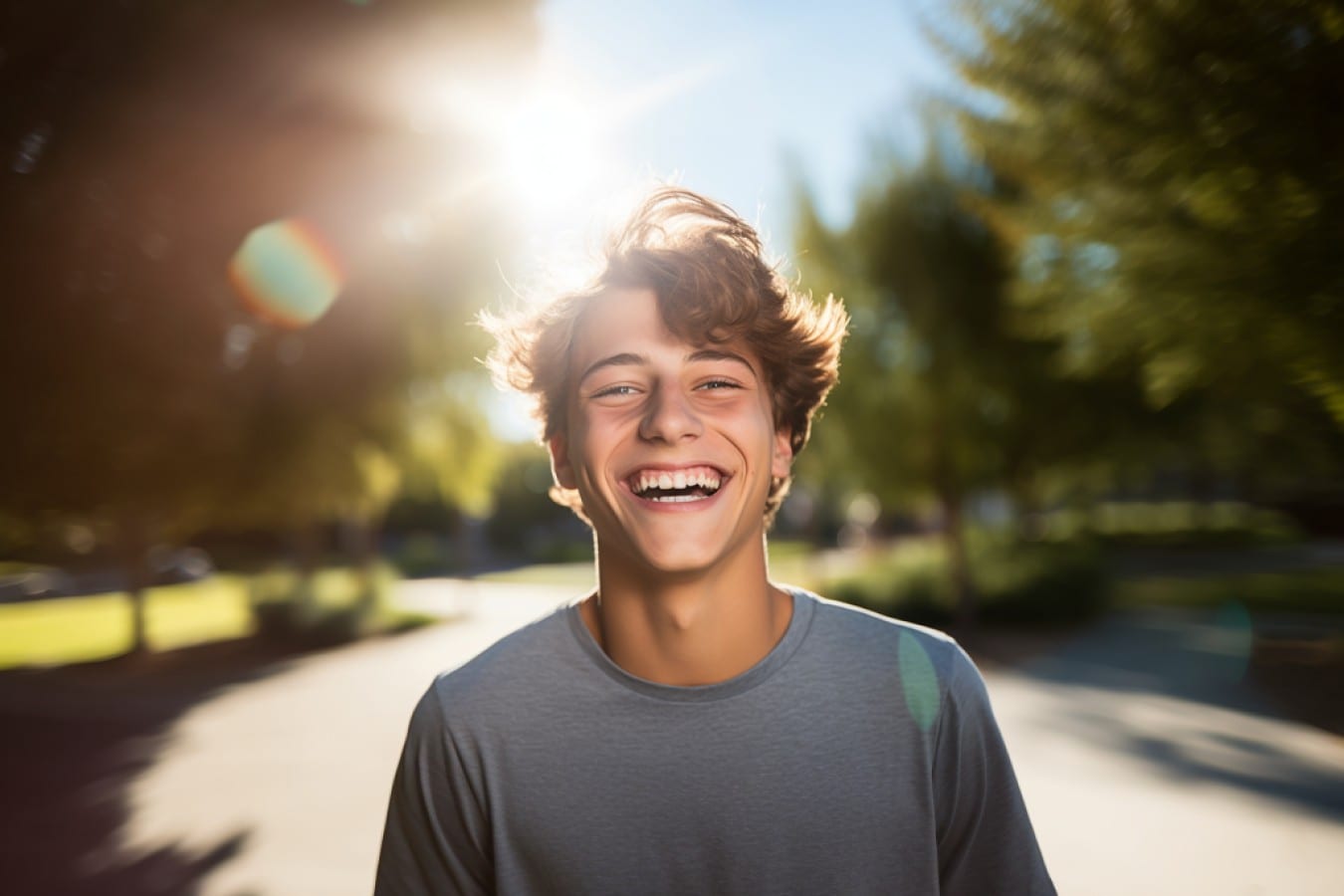 Invisalign For Teens
Are traditional braces not your thing? Do you feel self-conscious wearing metal brackets and wires on your teeth? We completely understand! As a teenager, it's important to feel confident in your appearance while also taking care of your dental health. That's where Invisalign Teen comes in.
At Caggiano Orthodontics, we offer Invisalign Teen as a modern and discreet alternative to traditional braces for teenagers. This revolutionary treatment uses clear aligners that are custom-made for each patient's unique smile. But what sets Invisalign Teen apart from regular Invisalign? Let's dive into the details.
Clear Aligners Designed Specifically for Teens
While regular Invisalign can be used for patients of any age, Invisalign Teen was specifically designed with the unique needs and concerns of teenagers in mind. The aligners are made with a special feature that allows for the eruption of any new or incoming teeth, making it easier for teens to transition into their adult smile.
Wear Indicators
One common challenge with orthodontic treatment is ensuring that the aligners are being worn for the recommended 20-22 hours per day. Invisalign Teen has a built-in wear indicator that fades from blue to clear, making it easy for both parents and orthodontists to monitor compliance.
Room for Growth
Teenagers are still growing and developing, which means their teeth may not be fully settled yet. Regular Invisalign aligners are designed to fit snugly around the teeth, which can be an issue for teens whose teeth may shift or grow during treatment. Invisalign Teen has extra space built into the aligners to allow for this natural growth and development.
No Restrictions on Food or Activities
One of the biggest benefits of Invisalign Teen is that there are no restrictions on what you can eat or drink while undergoing treatment. Traditional braces can limit the types of food you can enjoy, but with Invisalign Teen, you can continue to eat all your favorite foods and participate in sports or extracurricular activities without worrying about damaging your braces.
Invisalign Teen offers a comfortable, convenient, and discreet way for teenagers to achieve the smile of their dreams. With its unique features and benefits specifically designed for teens, it's no wonder why it's becoming a popular choice for orthodontic treatment. If you or your teenager are interested in Invisalign Teen, request a consultation with us today!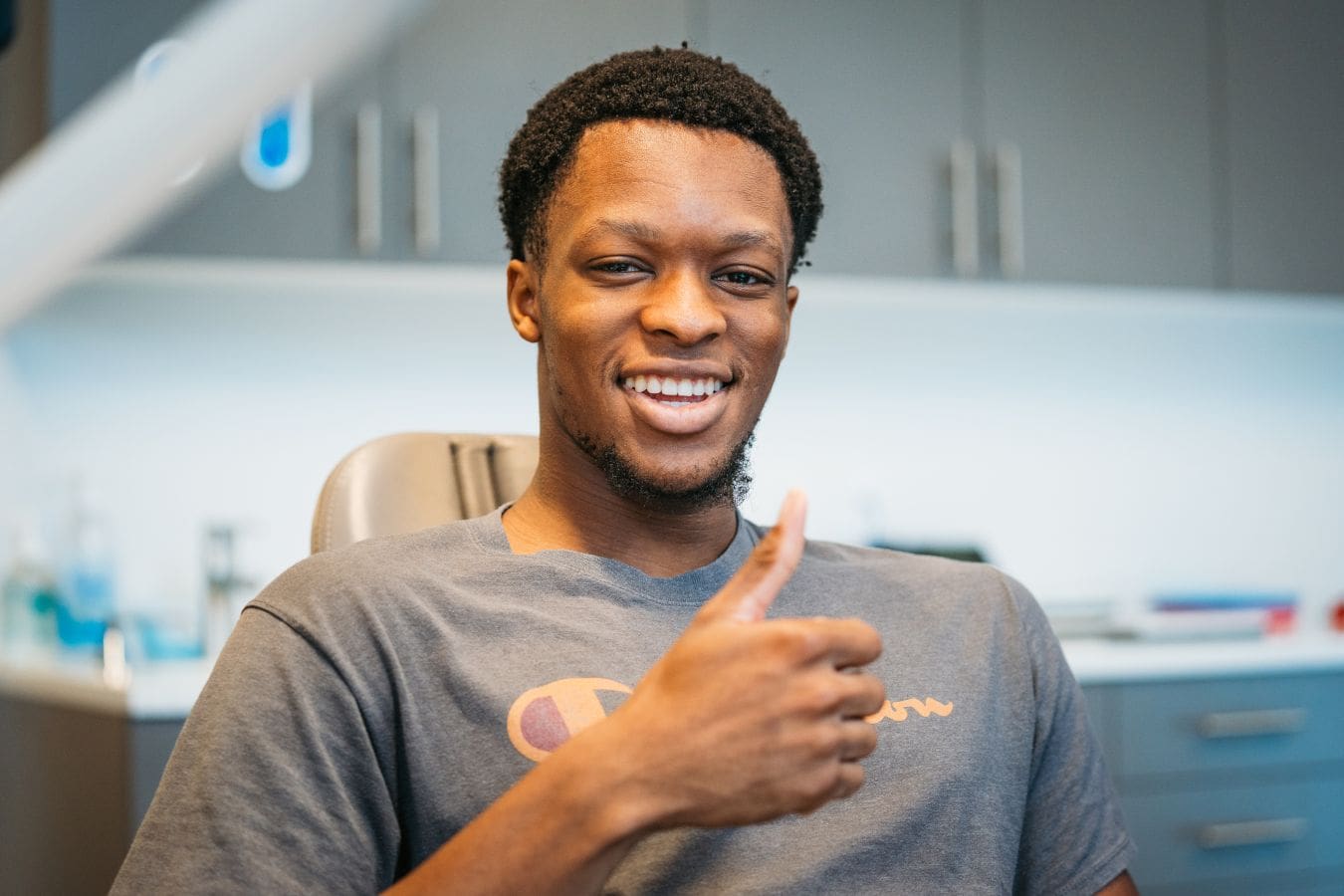 Invisalign For Adults
At Caggiano Orthodontics, we believe that everyone should have the opportunity to achieve a confident, radiant smile. That's why we offer Invisalign treatment for adults because it's never too late to invest in your oral health and aesthetics.
Why Choose Invisalign?
As an adult, you may have reservations about traditional metal braces. Invisalign offers a discreet and comfortable alternative to achieve straighter teeth. The clear aligners are virtually invisible, making it the perfect option for busy professionals or those who prefer a more inconspicuous treatment.
In addition to its aesthetic benefits, Invisalign also offers several practical advantages for adults. The aligners are removable, allowing you to easily maintain your oral hygiene routine and eat your favorite foods without restrictions. This can be especially beneficial for adults who lead busy lifestyles and don't have time for frequent visits to the orthodontist.
Some adults may feel self-conscious about seeking orthodontic treatment later in life, but we want to assure you that it's never too late. In fact, many adults choose Invisalign as a way to improve their oral health and boost their confidence. With advancements in technology and materials, the treatment time for Invisalign has significantly decreased, making it a more feasible option for busy adults.
Propel VPro
Our commitment to providing efficient orthodontic solutions for our adult patients has led us to integrate Propel VPro technology into our Invisalign treatment. Propel VPro uses soft micro-pulses that help to stimulate bone remodeling. This technology is designed to work in tandem with your Invisalign treatment, enhancing the aligners' effectiveness and further reducing your overall treatment time.
Unlike many other orthodontic appliances, Propel VPro is extremely convenient. The device is used for just 20 minutes per day at home, and its hands-free design allows you to continue with your daily routines uninterrupted. It's compact and portable, making it easy to carry while traveling, ensuring your treatment progresses seamlessly, no matter where you are.
Incorporating Propel VPro into your Invisalign treatment not only accelerates your journey toward a beautiful smile but also enhances the comfort of the process. It helps to decrease the discomfort associated with tooth movement, making the overall treatment experience more pleasant. At Caggiano Orthodontics, we are always on the lookout for the latest innovations that improve our patients' experiences and outcomes. Propel VPro is just one of the ways we're making orthodontic treatment faster, easier, and more efficient for adults.