Your First Visit
We are always excited to meet new patients and make them feel like a part of the Caggiano Orthodontics family. Your first visit to our Parsippany orthodontics office is not only a thorough look into your or your child's orthodontic needs — it's really a moment where you can get to know and trust our orthodontics team.
At your consultation, we will discuss your orthodontic needs and desires, take digital photos and X-rays, and perform a thorough examination. Once we have completed our complimentary smile assessment, we will review possible treatment options and determine if you are ready for braces and orthodontic treatment. With the assistance of our friendly and knowledgeable Treatment Coordinator, we will walk you through Dr. Caggiano's plan to get you a perfect smile.
In some younger patients, Dr. Caggiano will have to monitor tooth eruption and jaw growth as the child matures. Those children are placed in our "Growth Guidance" program, where we will do periodic checkups free of charge.
When it is time for you or your child to move forward with braces and orthodontic treatment, we answer any further questions you have regarding treatment, discuss our professional fees and financing options, and offer you an estimate, taking into account any dental insurance benefits you may have. If you don't have dental insurance, no worries! We offer affordable payment plan options, so anyone can receive the orthodontic treatment they deserve.
If you decide to proceed with braces and orthodontic treatment during your initial assessment, we will have already saved some time for you on the same day. This way, you can stay and skip the next appointment. We take a mess-free, digital scan of your or your child's mouth to create a study model. You will not have to suffer through having a goopy mess in your mouth to create a mold of your teeth. Our advanced technology helps us complete your diagnostic records and allows us to offer you a faster and more pleasant way to get started with orthodontic treatment.
Appointment & Scheduling
Patients are generally seen every 6-12 weeks for adjustments on their braces. These appointments in our Parsippany orthodontics office typically take 15 to 20 minutes and can be scheduled at any time that is convenient for you — in the morning, after school or work, or during lunch. At certain times during orthodontic treatment, we may need longer appointments to do more work on your braces. Examples of these longer visits include initial placement of the braces and removal of the braces. While we make every effort to provide convenient scheduling options, these longer appointments are scheduled at specific times during each day, usually in the morning or early afternoon. This allows us to offer more appointments in the late afternoon for routine adjustments. We realize that your most precious currency is time. Therefore, we make every effort to be on time for our patients, and we ask that you extend the same courtesy to us. If you cannot keep an appointment, please notify us immediately. For further insight into how we strive to provide the most convenient schedule for everyone, please see our Attendance & Scheduling Guidelines.
Some Key Scheduling Tips Include:
Schedule your next appointment before you leave our office.
Bring your calendar, planner, or smartphone with you to our office.
If you must reschedule, call our office as soon as possible.
Missing your scheduled appointments may extend your time in braces. For your convenience, we offer reminder messaging to help minimize missed appointments. Our automated reminder system utilizes email and text messaging. The text option has an easy opt-out option if you prefer email, but both allow you to confirm appointments automatically through the system. You can even integrate our appointments directly into your calendars with certain smartphones.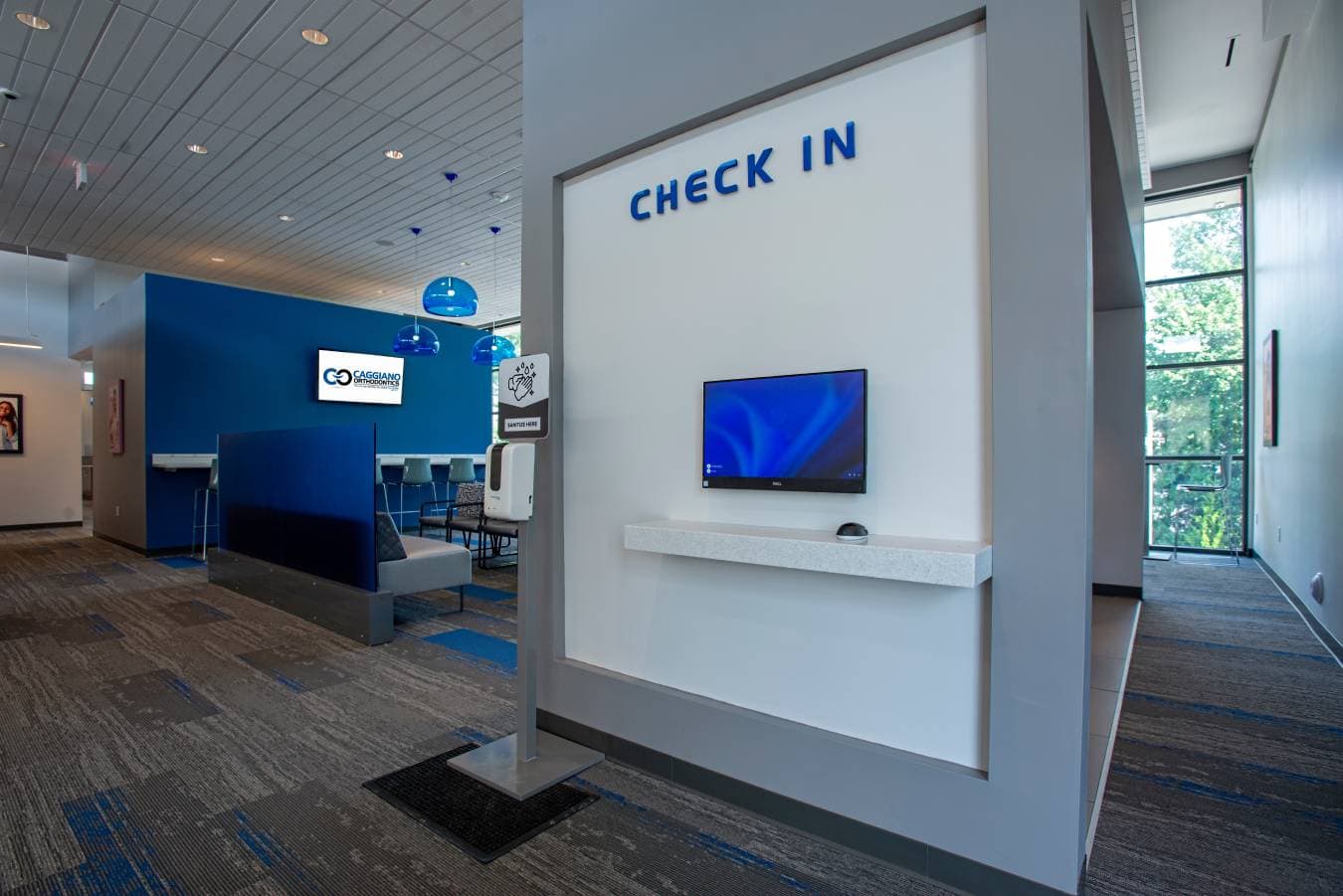 Financial Info
Obtaining a healthy and attractive smile is one of the best investments you can make. At your initial exam, our team will determine your individual orthodontic needs and our Treatment Coordinator will discuss the fees associated with your customized treatment plan. Most of our patients are pleasantly surprised to find that our office makes getting straight teeth affordable. We want to help you fit this important treatment into your budget and make every effort to keep finances from getting in the way of the smile you deserve.
Unlike many other offices, our fees are all-inclusive and cover the entire orthodontic treatment and retainers. All financial arrangements are discussed prior to starting treatment and there are never any surprises or add-ons.
Here are a few payment options we offer to help you get started:
Affordable Payment Plans

—

Speak with our office about flexible payment plans for braces. This service is provided interest-free, and we will be flexible in working with you to ensure that you have a comfortable payment amount each month.
0% Interest

—

We understand that everyone has different financial needs, and one plan does not fit all. No matter how we work out payments, we do not charge interest. This means you don't have to worry about accruing extra costs because you decide to go with a longer payment option.
No Hassle Financing

—

Life can be busy; that's why we want to make things easier for you. We have simple automatic payment options that take the worry out of the process. Talk to our orthodontics team about the different ways we can help make paying your bills fast and carefree.
Low Down Payment Options

—

We offer down payments as low as $400. This is an amazing offer when you consider some orthodontists require that you make a down payment of up to $1,500 before you can even start orthodontic treatment.
Most Insurances Accepted

—

If you have insurance, our orthodontic team members are always available to help you with insurance claims and paperwork. We will verify your insurance to help you get an accurate estimate; we'll file claims; and if you are looking at changing your insurance, we can advise on the best questions to ask to help you get the best coverage.
Paying for braces may be a concern, but you shouldn't let it discourage you. The payment options are there to help you so that you can help your child. When you or your child get braces or other necessary orthodontic treatments, they come with a host of benefits that you may not even realize.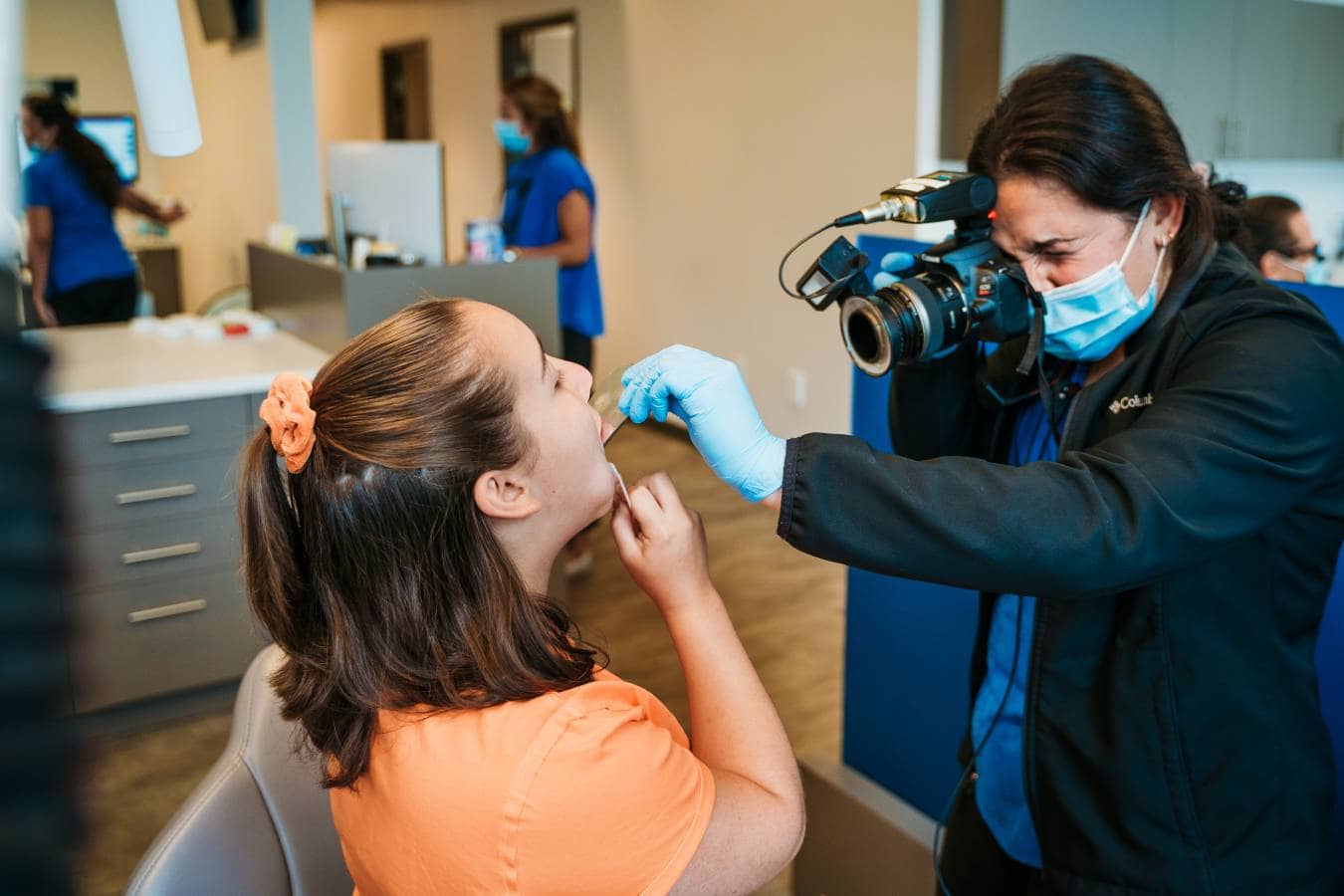 Caggiano Smile Warranty
If you are a patient of Caggiano Orthodontics, you qualify for our exclusive Caggiano Lifetime Warranty. No strings attached. If your teeth shift because you didn't wear your retainer, because you lost your retainer, or for any other reason, don't worry about it! Dr. Caggiano is the first orthodontist in New Jersey with such a warranty program on orthodontic treatment.
Once the active phase of your comprehensive orthodontic treatment is completed and your ideal smile has been achieved, your retainers are inserted and post-orthodontic care will be very important for maintaining your results.
We understand that in life, shift happens. That's why we offer the Caggiano Lifetime Smile Warranty to ensure your smile always looks its best! This means you will never have to worry about having to pay a full case fee for re-treatment — ever! Other orthodontists typically charge $3500 or more for re-treatment.
Whether you find yourself in need of full or limited orthodontic care, regardless of the reason, all you will ever have to pay is a very small fee. Any diagnostic records and X-rays that are needed will be at no cost to you. Installation and removal of metal braces will also be at no cost to you.
For one low fee, we will provide full orthodontic care until you are satisfied with your smile again. No need to worry about financing a new treatment or paying a down payment; you'll have easy access to the results you want — hassle-free. Your small fee and cost of retainers are subject to change based upon increasing costs for supplies, lab fees, and a changing market.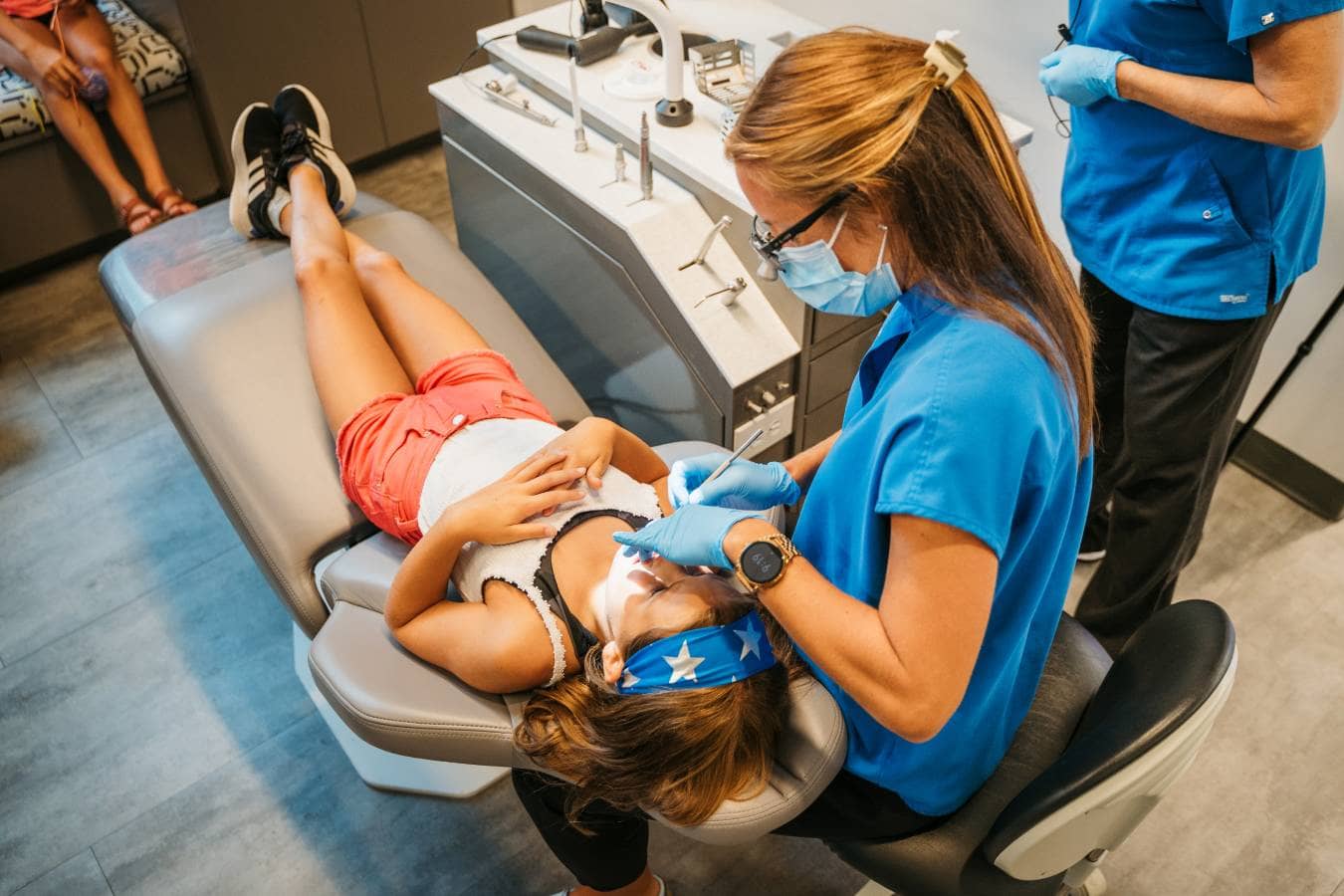 Comfort Care For Braces
True emergencies during orthodontic treatment are rare, but when they occur, our award-winning orthodontist and his team are here for you. As a general rule, you should call our office when you experience severe pain or have a painful problem with your braces that you can't take care of yourself. We'll be able to schedule an appointment for you as soon as possible to resolve any emergencies.
You might be surprised to learn that you may be able to solve many problems yourself temporarily until you can get to our office. If there is a loose piece on your braces that you can remove, put it in a plastic bag or envelope and bring it with you to your next appointment. If your braces are poking you, put soft wax on the piece that's sticking out. If the wire has slid to one side, you can pull it back to the other side with needle-nosed pliers, replacing it in the tube on the back tooth.
After alleviating your discomfort, it is very important that you still call our team as soon as possible to schedule a time to repair your braces. Allowing your braces to remain damaged for an extended period of time may result in disruptions to your orthodontic treatment plan.
General Soreness
When you get your braces on, you may feel general soreness in your mouth, and teeth may be tender to biting pressure for three to five days. Stick to a soft diet until your teeth do not hurt while chewing.
Irritated gums and other sore spots can be relieved by rinsing your mouth with a warm salt-water mouthwash. Dissolve one teaspoonful of salt in eight ounces of warm water, and rinse your mouth vigorously. An alternative (better tasting) mouthwash is the Healthy Gums Rinse by The Natural Dentist. Placing Orabase on the affected area may also help relieve discomfort; Orabase can be found in a pharmacy. If the tenderness is severe, take Acetaminophen (Tylenol) or whatever you normally take for headache or similar pain. Aspirin, Ibuprofen (Motrin, Advil), and Naproxen Sodium (Naprosyn, Anaprox) actually slow tooth movement, so it is not advisable to use them frequently while wearing braces.
The lips, cheeks, and tongue may become irritated for one to two weeks as they learn a new posture and become accustomed to the surface of the braces. You can put wax on the braces to lessen this. We'll show you how!
Loose Braces Or Bands
Thankfully, a loose brace should cause no discomfort. Most often, this happens from eating foods that should be avoided. Loose braces can typically wait until your next visit for repair. If you have a loose brace, you should leave it in place and put wax on it if needed for comfort. If the bracket or band can be removed easily, place it in an envelope and save it to bring to your next appointment.
Poking Wire, Broken Braces
If you are experiencing discomfort from poking wires, there are a few quick fixes that can bring relief until your next appointment. Dental wax will create a barrier between the wire and your gums. Additionally, you can use the end of a Q-tip or the eraser side of a pencil to push or bend the wire away from the gum tissue. If the poking wire is in a hard-to-reach place, you may need the assistance of a friend or parent. As a last resort if the above fixes do not work, you may want to get a nail clipper or cuticle cutter and cut the small piece.
Patient Care Videos
Have questions about your treatment or orthodontics in general? Check out our patient care videos for more information.